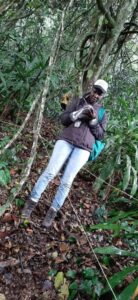 Ephie Ruth Lumumba
After graduating from Karatina University in 2021, I decided to immediately embark on my Masters programe towards my career targets. Pursuing my master's degree in the school of natural resources and environmental studies allows me to upscale my experience as an undergraduate student of Karatina University. We were involved in a wide exposure to field activities visiting the various wildlife and conservation areas of the country and getting opportunities to be involved in research projects locally and internationally.
In my first months of the Masters programe, the Mountain Studies and climate Change Centre has provided me two exposures to help me raise my university fees and also get research experience;
I have benefited from a partial DAAD scholarship for my Master's thesis. The BIOCULT project that involved students from Karatina University, Taita Taveta University, Pwani University, University of Nairobi and Tangaza University, gave me an opportunity not only to collect my Master's thesis data but also expand my social network, exchange ideas, learn different research topics undertaken by students from other universities.
I have been involved in a projects to support the development of Rwanda's REDD+ programme where I have supported in data analysis and calculation of historical Green House Gas emissions from the forest sector.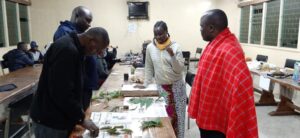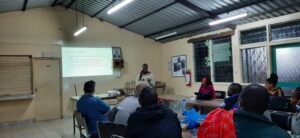 In these two activities, I have been able to raise a good proportion of my first year fees. I am sure that upcoming exposure programmes provided by the University and the Centre for Mountain studies and Climate change will support the remaining portion of my university fees