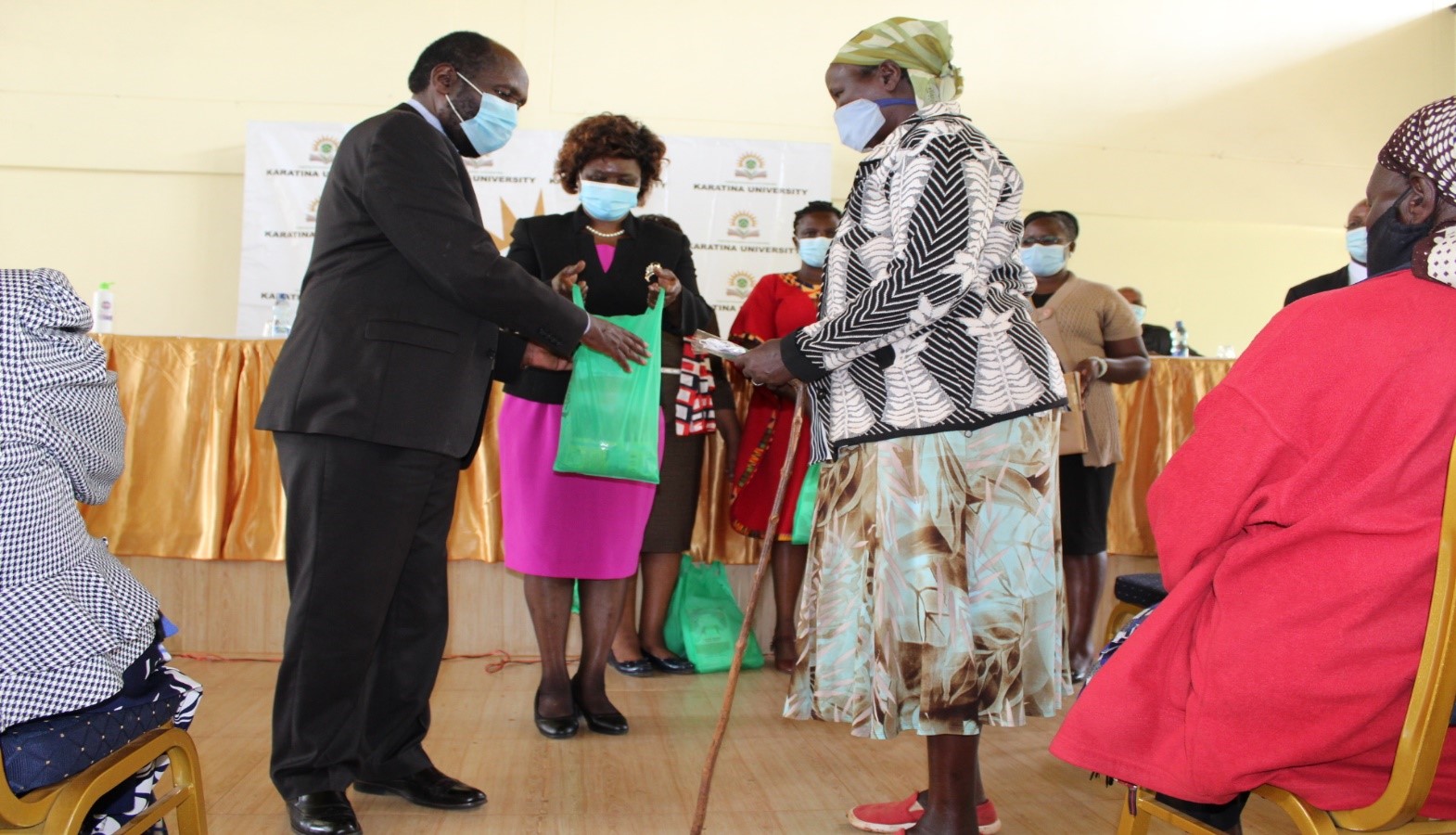 Karatina University Launches Donation of Face Masks to Vulnerable Elderly Residents of Nyeri County
Conscious of the need to touch vulnerable lives among local communities, Karatina University has embarked on an initiative to donate face masks in an efforts to combat the spread of Corona Virus which has continued to mutate hence posing serious risks to humanity. The objective of the exercise is to reduce the spread of the disease at source by employing all measures recommended by WHO and Ministry of Health aimed at reducing transmission such as frequent handwashing, wearing a face mask, physical distancing, good ventilation and avoiding crowded places.  These measures have been highly employed at the University and this is why the university established a programme to reach out to the vulnerable members of the society for continued awareness creation and sensitization.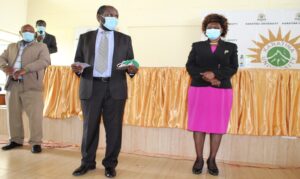 On Thursday, 18th March 2021, about 100 elderly citizens from Mathira East and West Sub-Counties were invited to the University to receive the mask donation in a colourful function presided by the Vice Chancellor, Prof. Mucai Muchiri. In his opening remarks, he reminded the guests that Karatina University has impacted highly on the local community by providing innumerable opportunities. He asked them to provide ownership and support to the University by among other things taking pride in the institution and commitment to the ideals that drive it to achieve its mandate. The Vice Chancellor impressed upon the elders to follow Ministry of Health protocols to avoid infection.
Making her remarks, Deputy Vice Chancellor (ARSA) and Chair, Health Committee, Prof. P. Aloo-Obudho, reported that the University has been very proactive in outreach programmes which have touched many lives positively. COVID-19 awareness and sensitization forums have been conducted in partnership with reputable hospitals such as Aga Khan University Hospital. She indicated that outreach activities are quite vibrant in the University and that is why reaching out to the vulnerable is a step in the right direction. She appreciated the fact that the elderly had received clinical and nutritional checks by staff and students of School of Nursing and Department of Food Science and Nutrition.
The event targeted the elderly people especially those marginalized. This was deliberate as some of them have poor dietary, physical and mental health, increased social isolation and loneliness, greater financial insecurity and decreased quality of life, all intersecting and exacerbating other forms of vulnerabilities
The launch of the mask donation by the Vice Chancellor at the University's Main Campus in Kagochi, commenced a donation drive that is targeted to reach to over 4500 elderly residents of Nyeri County.  The donation will cover all sub-counties in Nyeri. The elders through their spokesperson expressed warm appreciation to the University for donating masks to the community members.